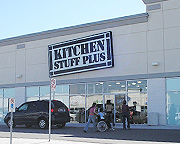 The printable coupon appears instantly on your screen at the end of the survey, so be sure to have your printer at the ready. It can be used in-store to claim 25% off a single item. There are a few exclusions though, so have a read of the small print before you run off to the store.
Kitchen Stuff Plus has some great frames and even has some alphabet wall decals with animals on them...so that's great!
Here's the link:
http://www.surveymonkey.com/s/JGWV3J2
Happy Shopping!